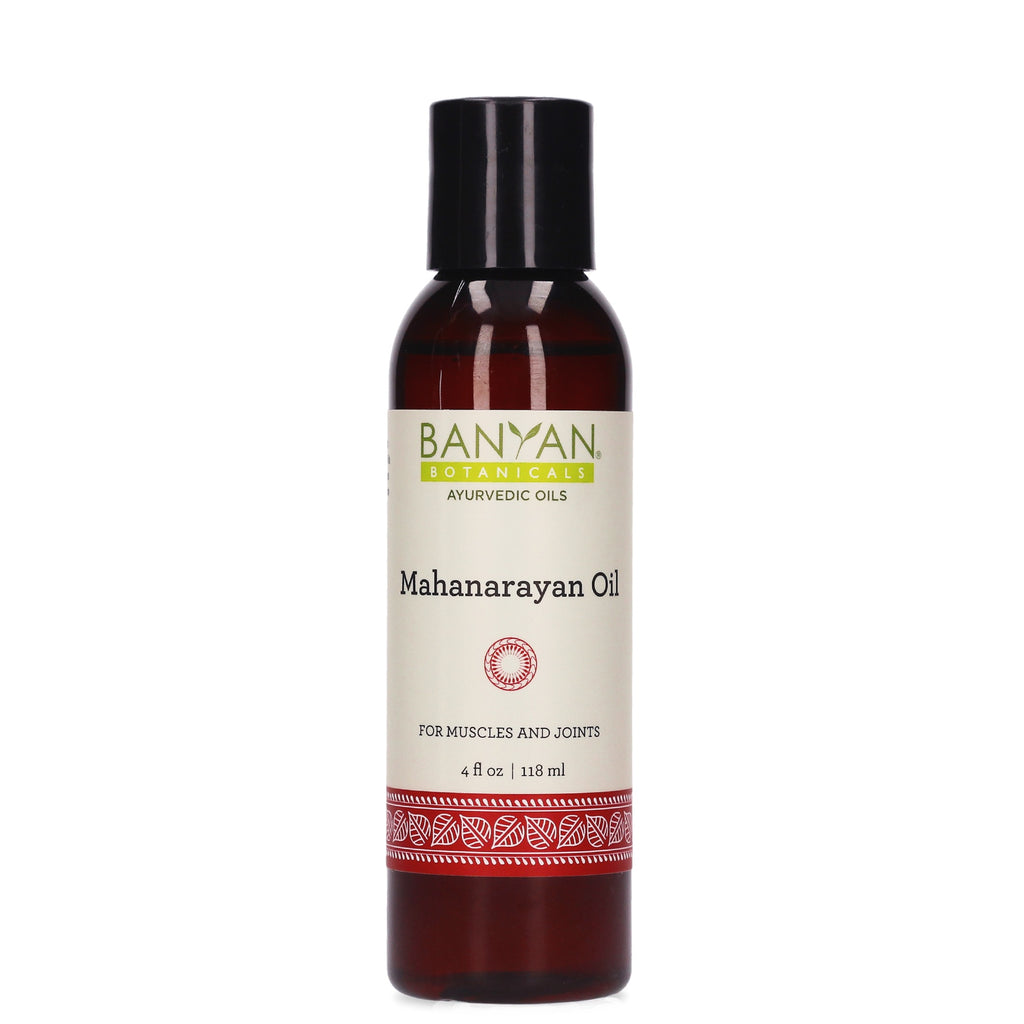 For Muscles and Joints
Comforting oil for the body
Provides a warming action that is balancing for all doshas, especially vata
Rich in herbs that target the joints and muscles
Use localized or as a daily massage oil
Our Mahanarayan Oil is based on an ancient Ayurvedic recipe that delivers powerful muscle and joint targeting herbs in a base of certified organic sesame oil. A nourishing and strengthening oil with rejuvenating qualities, it is used by gently massaging into sore muscles and tendons to bring warmth to the area. The synergistic blend of herbs supports the rejuvenation of joints. In Ayurvedic terms, Mahanarayan Oil is particularly good for supporting an active lifestyle, for those experiencing high vata, and promoting the natural rejuvenation process.
The oil can be applied locally to areas where there is physical discomfort. It may also be diluted with a base oil and used in deep-tissue massage.
Ayurvedic Energetics:
Virya (action): warming
Doshas (constitutions): Balancing for all doshas, especially good for vata
Suggested Use:
Warm oil if desired. Apply to the target joints and muscles, massaging the area until the oil is mostly absorbed. Repeat 2–3 times daily or as needed.
For external use only.
Ingredients:
Sesame oil+, Shatavari (Asparagus racemosus)+, Manjistha (Rubia cordifolia)+, Camphor oil, Arjuna(Terminalia arjuna)+, Ashwagandha (Withania somnifera)+, Punarnava (Boerhaavia diffusa)+, Agnimantha (Premna mucronata)+, Bilva (Aegle marmelos)+, Brihati (Solanum indicum)+, Gambhari (Gmelina arborea)+, Gokshura (Tribulus terrestris)+, Kantakari (Solanum xanthacarpum)+, Patala (Stereospermum suaveolens)+, Prishnaparni (Uraria picta)+, Shalaparni (Desmodium gangeticum)+, Shyonaka (Oroxylum indicum)+, Fennel (Foeniculum vulgare)+, Musta (Cyperus rotundus)+, Neem (Azadirachta indica)+, Valerian (Valeriana officinalis)+, Turmeric (Curcuma longa)+, Vidanga (Embelia ribes)+, Anantamul (Hemidesmus indicus)+, Bhumyamalaki (Phyllanthus amarus)+, Brahmi/Gotu Kola (Centella asiatica)+, Calamus (Acorus calamus)+, Cardamom (Elettaria cardamomum)+, Clove (Caryophyllus aromaticus)+, Ginger(Zingiber officinale)+, Guduchi (Tinospora cordifolia)+, Licorice (Glycyrrhiza glabra)+, Mineral Salt, Tulsi (Ocimum sanctum)+

+Certified Organic
Banyan oils are packaged in recyclable BPA-free plastic containers.
This item contains no animal products and is suitable for vegetarians and vegans.
WARNING: All oils make surfaces slippery and can be combustible. Use caution when drying or storing linens exposed to oils as they are potentially combustible when exposed to heat. Consult your dryer manufacturer's guidelines for drying linens that have been in contact with oils.