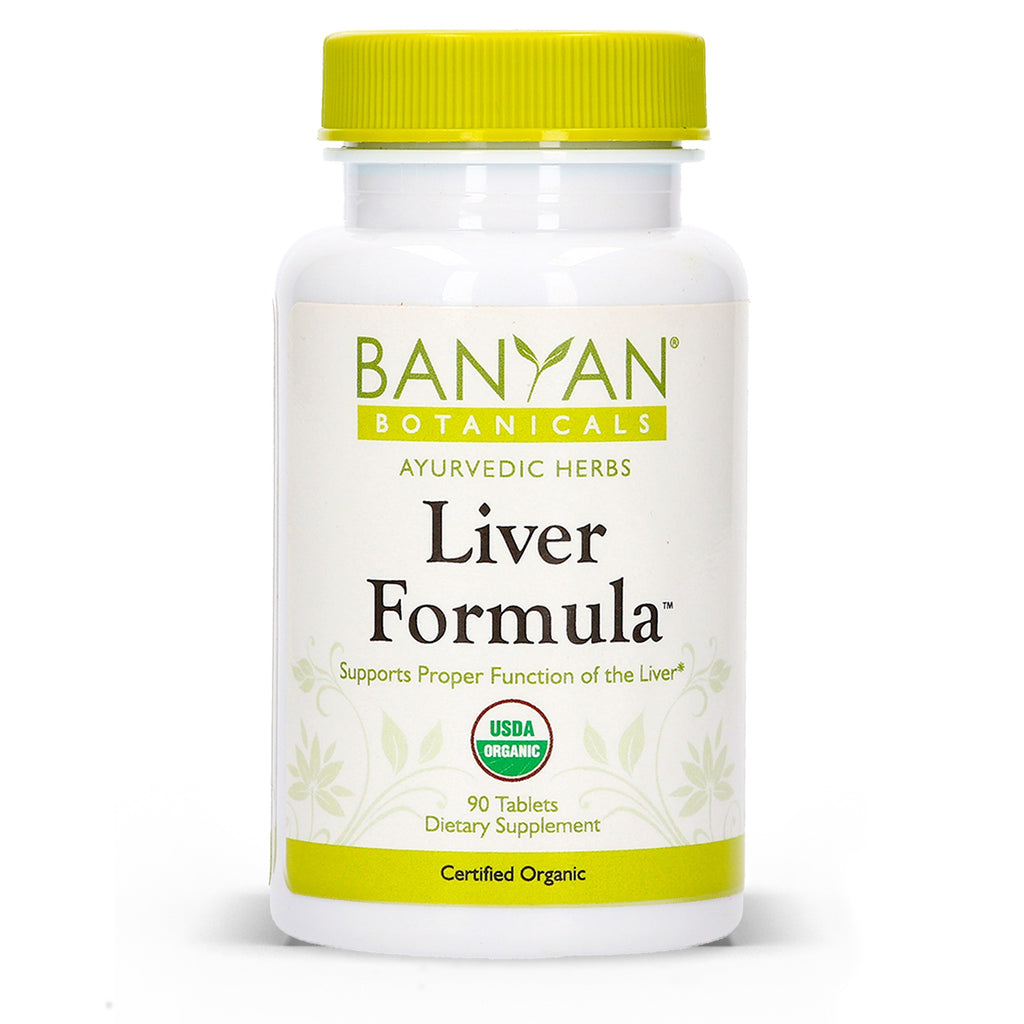 Supports Proper Function of the Liver*
Strengthens and rejuvenates the liver and gallbladder*
Supports healthy elimination of natural toxins*
Promotes healthy digestion and assimilation*
Reduces excess pitta*
Liver Formula is an excellent detoxifier and rejuvenative for the liver. It is a powerful combination of bitter herbs that acts as a natural purgative to cleanse the liver of accumulated natural toxins. This energetically cooling formula pacifies pitta and helps support the healthy production of bile. These herbs nourish and strengthen the liver tissues, promoting proper digestion of fat and a healthy metabolism. Liver Formula supports optimal liver function, which is an important component in overall health and well-being.
Ayurvedic Energetics:
Rasa (taste): bitter, astringent
Virya (action): cooling
Vipaka (post-digestive effect): pungent
Doshas (constitutions): Balancing for pitta and kapha, may aggravate vata in excess
Common Usage:
Used to support a healthy liver and gallbladder.*
Possible Contraindications:
Not for use by pregnant women
Suggested Use:
1–2 tablets, once or twice daily, or as directed by your health practitioner.
Please consult with your health care practitioner prior to the use of this product if you are pregnant or nursing, taking medications, or have a medical condition. Keep out of the reach of children.
Supplement Facts:
Serving size: 2 tablets
Servings per container: 45
Each 500 mg tablet contains: Bhumyamalaki herb (Phyllanthus amarus)+, Guduchi stem (Tinospora cordifolia)+, Kalmegh (Andographis paniculata)+, Bhringaraj leaf (Eclipta alba)+, Punarnava root (Boerhaavia diffusa)+, Manjistha root (Rubia cordifolia)+, Musta root (Cyperus rotundus)+, Amalaki fruit (Emblica officinalis)+, Bibhitaki fruit (Terminalia belerica)+, Haritaki fruit (Terminalia chebula)+, Pippali fruit (Piper longum)+.
+Certified Organic
Other ingredients, from natural sources: organic gum acacia, organic rice flour. Free from gluten, soy and dairy. 100% vegetarian.