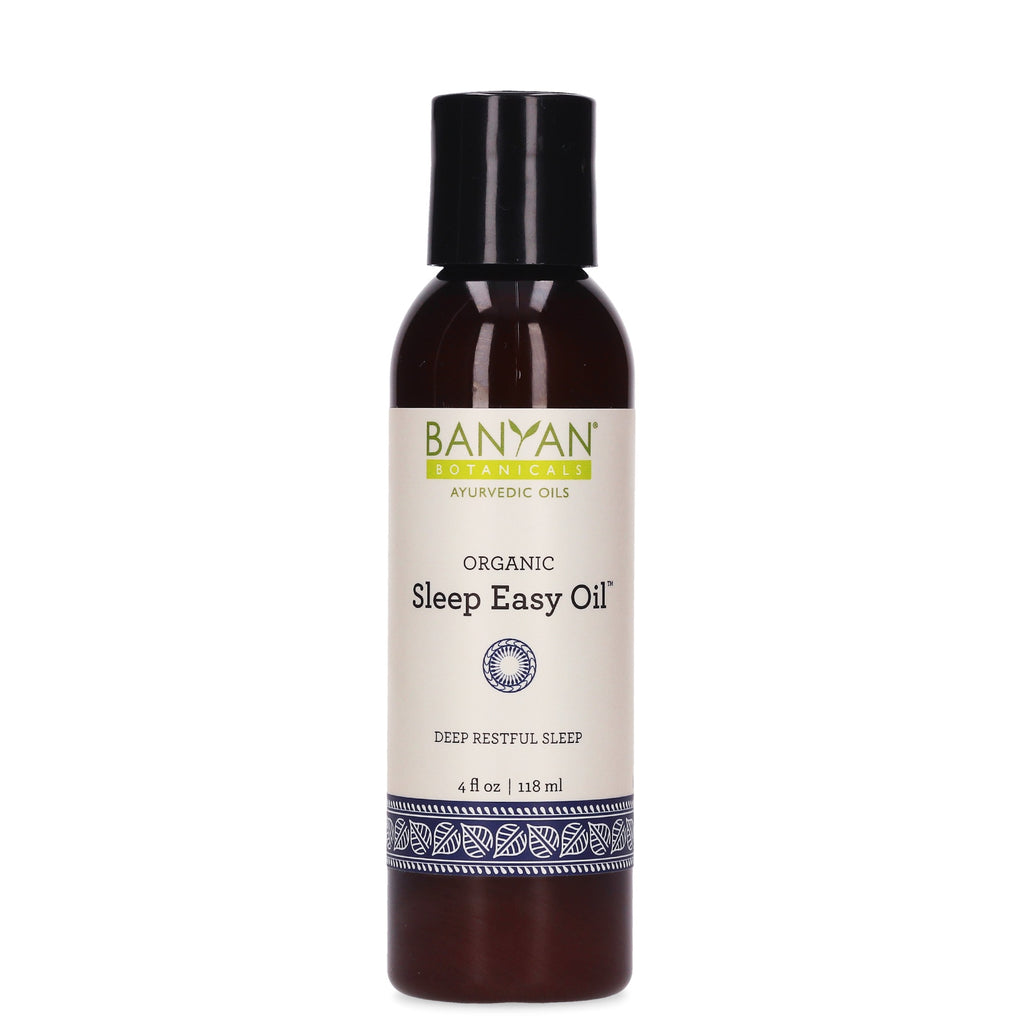 Deep Restful Sleep
Apply before bed for a night of restful sleep
Calms the nerves and quiets the mind
Grounds and pacifies vata 
Soothes and balances pitta
This calming and relaxing oil brings you powerful Ayurvedic herbs that promote healthy sleep patterns and deep rest and relaxation. Healthy sleep patterns are crucial as they allow the body to restore and rejuvenate while letting the mind process, learn, and de-stress. This cooling and soothing formula is intended to be used with the traditional method of head and foot massage at night before going to bed. Application to the head, temples, and soles of the feet helps ground the light and mobile nature of vata and balance the sharp and active nature of pitta, promoting the heavier qualities needed for sleep. Massage Sleep Easy Oil into your head and feet for a rejuvenating night of rest. One of the best oils for sleep, this herbal blend is in a base of four organic oils, which come together to bring nourishment, subtle warmth for penetration, and gentle cooling for relaxation. Each batch is finished with nutmeg, bergamot, and ylang ylang essential oils, which provide relaxing and subtle floral notes to the oil.
Ayurvedic Energetics:
Virya (action): slightly cooling
Doshas (constitutions): Balancing for all doshas
Suggested Use:
Apply to head, temples, solar plexus, and the soles of feet for a night of sound sleep. For best results, apply 20 minutes before bedtime.
For external use only.
Ingredients:
Refined Sesame oil+, Refined Coconut oil+, Sunflower oil+, Olive oil+, Ashwagandha (Withania somnifera)+, Guduchi (Tinospora cordifolia)+, Bhringaraj (Eclipta alba)+, Passionflower+, Skullcap+, Licorice (Glycyrrhiza glabra)+, Chamomile Flowers+, Bergamot essential oil+, Nutmeg+, Nutmeg essential oil+, Ylang Ylang essential oil+.
+Certified Organic