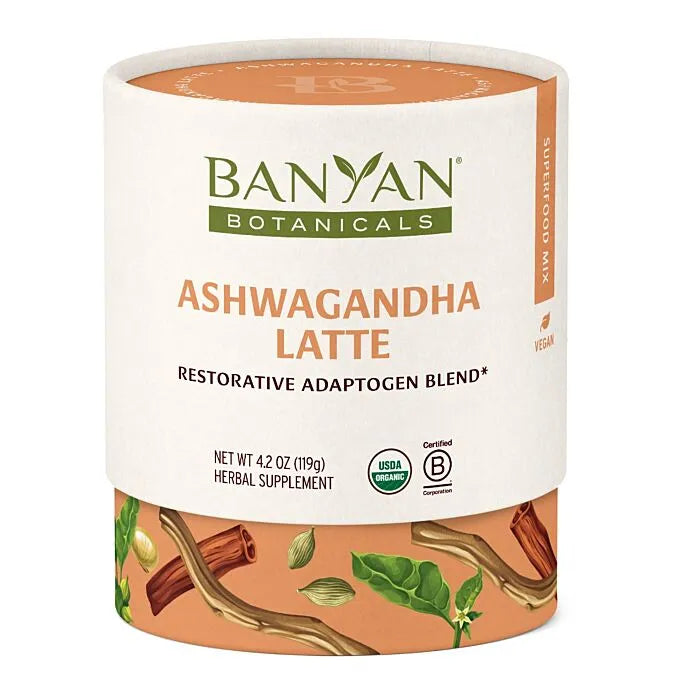 Grounding Adaptogen Blend
Caffeine-free herbal blend
Enjoy during the day for healthy energy*
Sip in the evening to relax*
Try after a workout to support muscle recovery and rejuvenation*
Ashwagandha Latte Mix is a delightful way to get your daily dose of herbal adaptogens. This dynamic blend offers the best of two continents, combining Oregon-grown ashwagandha and burdock with Indian-grown Fair for Life Fair Trade Certified shatavari, mucuna, and haritaki. Lightly sweetened with maple and rounded off with a touch of cardamom and cinnamon, this dreamy, creamy, caffeine-free blend can be enjoyed at any time of day. Your latte ritual never tasted so good!
How to Make an Ashwagandha Latte:
In a small pot, combine 1 ½ teaspoons Ashwagandha Latte Mix with 8 ounces of your preferred milk. Stir to combine and gently heat. Pour directly into your cup, sweeten to taste if desired, and enjoy! Note: the mix will evenly disperse into the milk rather than dissolve.
Dosha-Balancing Tips:
Vata: try cashew milk, almond milk, or cow's milk
Pitta: try coconut milk or cow's milk
Kapha: try water, coconut milk, or oat milk
Ayurvedic Energetics:

Rasa (taste): Sweet
Virya (action): Warming
Vipaka (post-digestive effect): Sweet
Doshas (constitutions): Balancing for vata, may increase pitta and kapha in excess
Ingredients:
Maple sugar (Acer saccharum)+, Ashwagandha root (Withania somnifera)+, Mucuna seed(Mucuna pruriens)+, Shatavari root (Asperagus racemosus)+, Burdock root (Articum lappa)+, Cinnamon bark (Cinnamomum verum)+, Cardamom seed (Elletaria cardamomum)+, Haritaki fruit (Terminalia chebula)+.
+Certified Organic