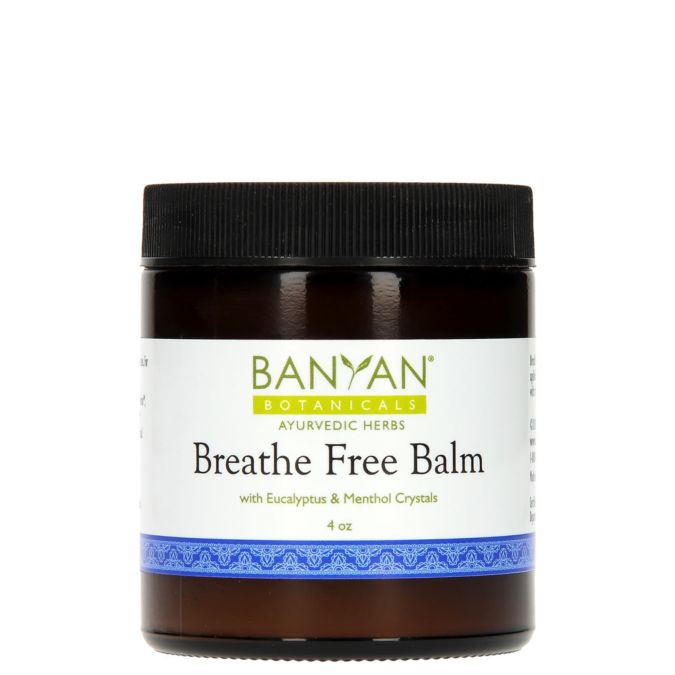 Warming and comforting chest rub
Blended with traditional Ayurvedic herbs for a calm and clear respiratory system
Breathe Free Balm is a warming chest rub that provides comfort when you need it most.
When applied topically, Breath Free Balm subtly penetrates the skin, delivering the soothing Ayurvedic herbs deep into the tissues. The addition of eucalyptus and cedar essential oils, along with naturally formed menthol crystals, provides a bright and refreshing experience to enliven the senses and help you breathe easy. Breathe Free Balm can be applied on the chest, back, and neck, and gently along the sinuses. Follow with a warm steam inhalation or a warm compress when you're looking for extra nourishment for the lungs and sinuses. This herbal vapor rub is gentle enough for children and can be used as generously or sparingly as you wish.
Each 4oz jar contains: Castor oil+, Sesame oil+, Sunflower oil+, Beeswax+, Calamus root (Acorus calamus)+, Kalmegh leaf (Andrographis paniculata)+, Licoriceroot (Glycyrrhiza glabra)+, Eucalyptus+, Ginger root (Zingiber officinale)+, Pippali fruit (Piper longum)+, Fennel seed (Foeniculum vulgare)+, Rosemary+, Clove+, Camphor oil, Menthol crystals+, Eucalyptus essential oil+, Cedar leaf essential oil.
+Certified Organic