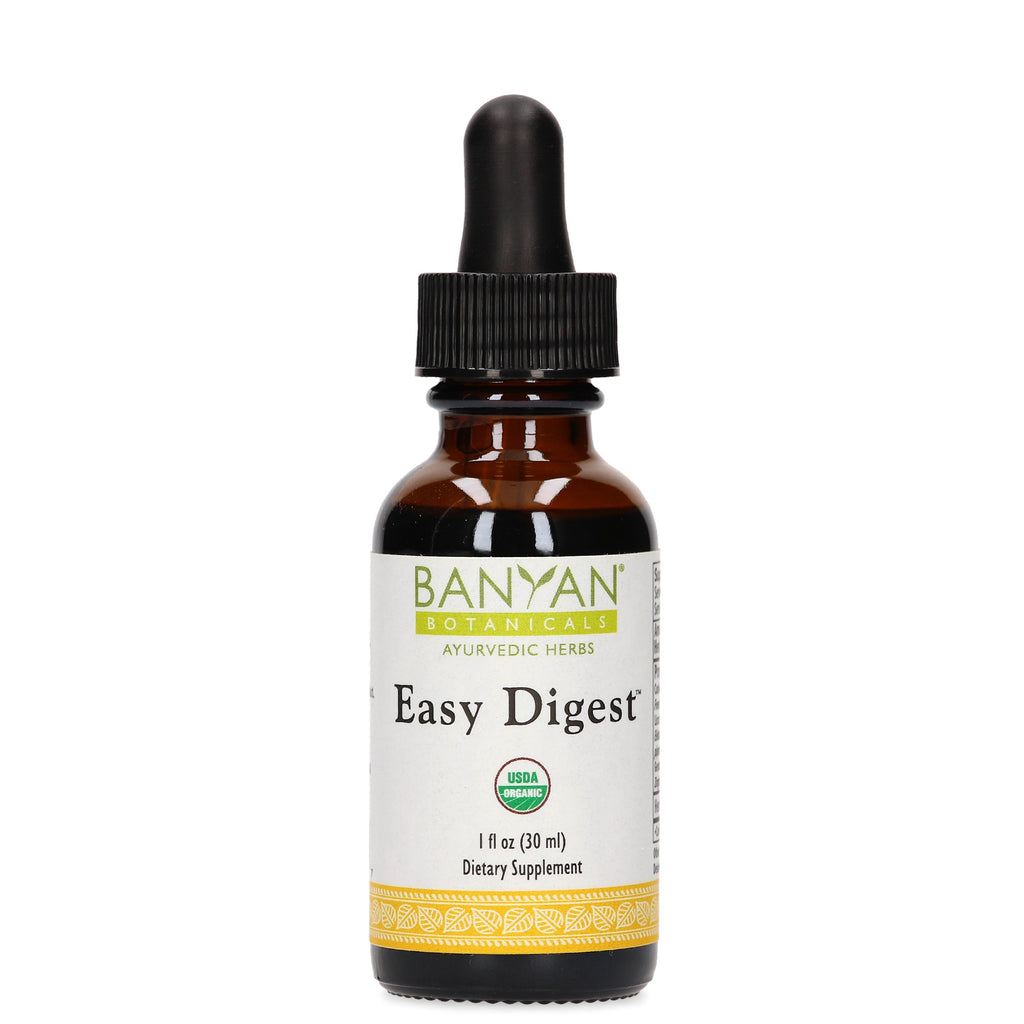 Powerful Support for Healthy Digestion*
Supports healthy digestion, absorption, and assimilation*
Eases occasional gas and bloating*
Promotes post-meal intestinal comfort*
Stimulates a healthy and balanced appetite*
Occasional gas, bloating, and post-meal intestinal discomfort are such common experiences for many people that they may be overlooked as signs from the body that the digestive fire is weak and working suboptimally. While it might not be the first thing you think of when supporting your health, strong digestion is central to any Ayurvedic wellness program. Proper digestion, absorption, and assimilation are needed to supply the body with the energy it takes to heal and function properly. Whereas when digestion is weak, not only is the body going to lack nourishment but the system can become clogged and unnecessarily burdened by undigested material. Easy Digest is a powerful and appetizing blend of herbs that supports the digestive process. It can be used before meals to stoke the appetite and enkindle the digestive fire and it can also be taken after eating to promote a comfortable post-meal experience. As a liquid extract it is easy to carry with you and easy to take. Easy Digest really does make it easy to support your overall health and well-being.*
Ayurvedic Energetics:

Rasa (taste): pungent, sweet, bitter
Virya (action): slightly heating
Vipaka (post-digestive effect): sweet
Doshas (constitutions): Balancing for vata and kapha, may aggravate pitta in excess
Possible Contraindications:
Do not take during pregnancy. Keep out of reach of children.
Suggested Use:
30 drops in water, 2–3 times daily, before or after meals, or as directed by your health practitioner.
Please consult with your health care practitioner prior to the use of this product if you are pregnant or nursing, taking medications, or have a medical condition. Keep out of the reach of children.
Serving size: 1 ml
Servings per container: 30
Amount Per Serving 500 mg, Herb Weight Equivalence

Ingredients: Coriander seed+, Fennel seed+, Anise seed+, Licorice root+, Cardamom seed+, Peppermint leaf+, Celery seed+, Gentian root+, Ginger root+.
+Certified Organic
Other ingredients, from natural sources: organic grain alcohol (45-55%), deionized water.
This item contains no animal products and is suitable for vegetarians and vegans