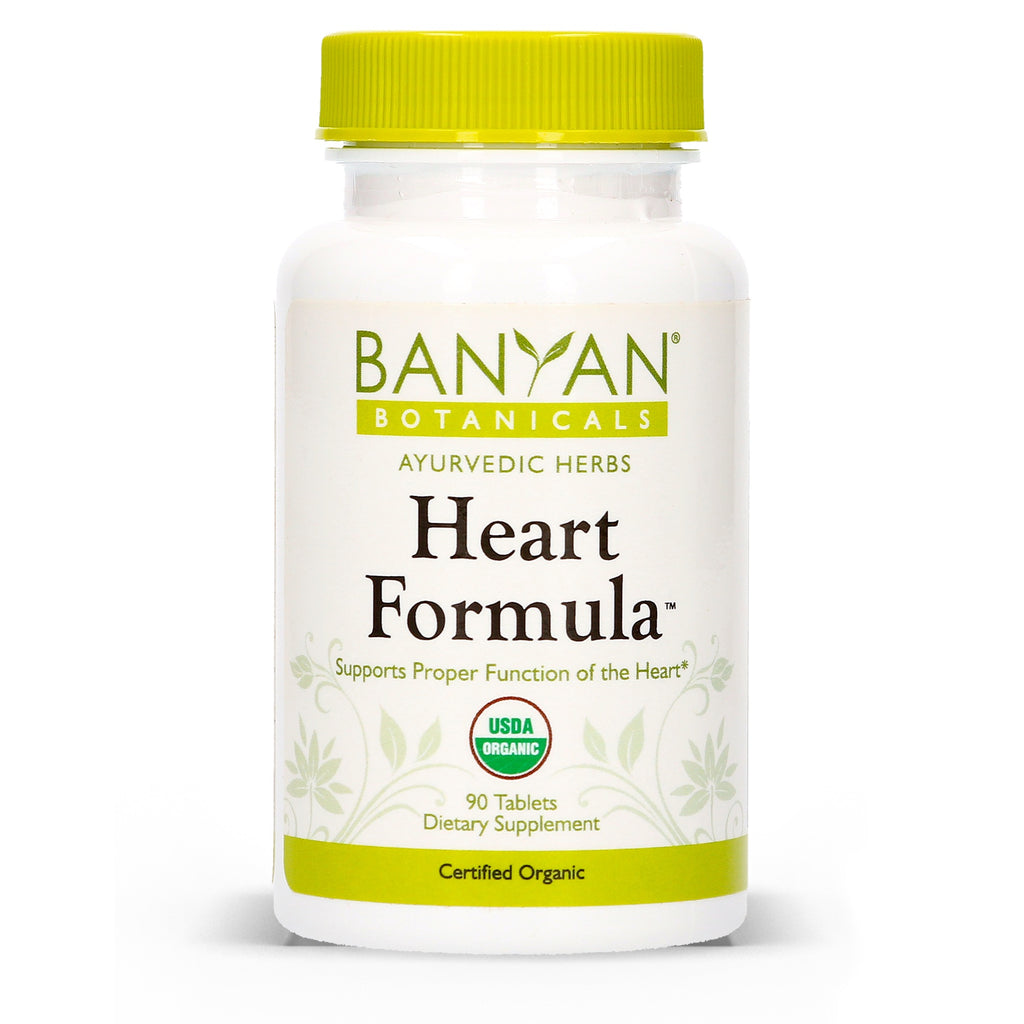 Supports Proper Function of the Heart*
Supports healthy function of the heart and circulatory system*
Supports healthy cholesterol levels that are already in the normal range*
Enhances sense of well-being*
Heart Formula is a rejuvenating heart health supplement, formulated with a combination of herbs that promote the proper function of the heart and circulatory system. As a cardiac tonic, Heart Formula nourishes and strengthens the heart muscle, thereby supporting blood circulation and a healthy supply of oxygen to the system. Ingredients such as hawthorn berry and guggulu promote healthy cholesterol levels that are already in the normal range and aid in detoxifying and cleansing the circulatory channels. According to Ayurveda, maintaining a healthy heart has an emotional component that involves letting go of fear, anxiety, and other repressed emotions. Heart Formula, taken in conjunction with the practice of yoga and meditation, may help release these emotions while calming and soothing the heart. Its main ingredient, arjuna, is one of Ayurveda's most popular herbs for heart health and has been used as an all-around heart tonic for hundreds of years. It is said to impart courage and strengthen the will while encouraging us to follow our hearts.
Ayurvedic Energetics:
Rasa (taste): astringent, bitter, sweet, pungent
Virya (action): neutral
Vipaka (post-digestive effect): neutral
Doshas (constitutions): Balancing for all doshas
Common Usage:
Used to support a healthy heart and circulatory system.*
Possible Contraindications:
Use with care during pregnancy
Suggested Use:
1–2 tablets, once or twice daily, or as directed by your health practitioner.
Please consult with your health care practitioner prior to the use of this product if you are pregnant or nursing, taking medications, or have a medical condition. Keep out of the reach of children.
Supplement Facts:
Serving size: 2 tablets
Servings per container: 45
Each 500 mg tablet contains: Arjuna bark (Terminalia arjuna)+, Punarnava root (Boerhavia diffusa)+, Guduchi stem (Tinospora cordifolia)+, Hawthorn berry (Crataegus laevigata)+, Brahmi/Gotu Kola leaf (Centella asiatica)+, Amalaki fruit (Emblica officinalis)+, Bibhitaki fruit (Terminalia belerica)+, Haritaki fruit (Terminalia chebula)+, Guggulu resin (Commiphora mukul)+, Pippali fruit (Piper longum)+, Ginger root (Zingiber officinale)+, Cardamom seed (Elettaria cardamomum)+.
+Certified Organic
Other ingredients, from natural sources: organic gum acacia, organic rice flour. Free from gluten, soy and dairy. 100% vegetarian.