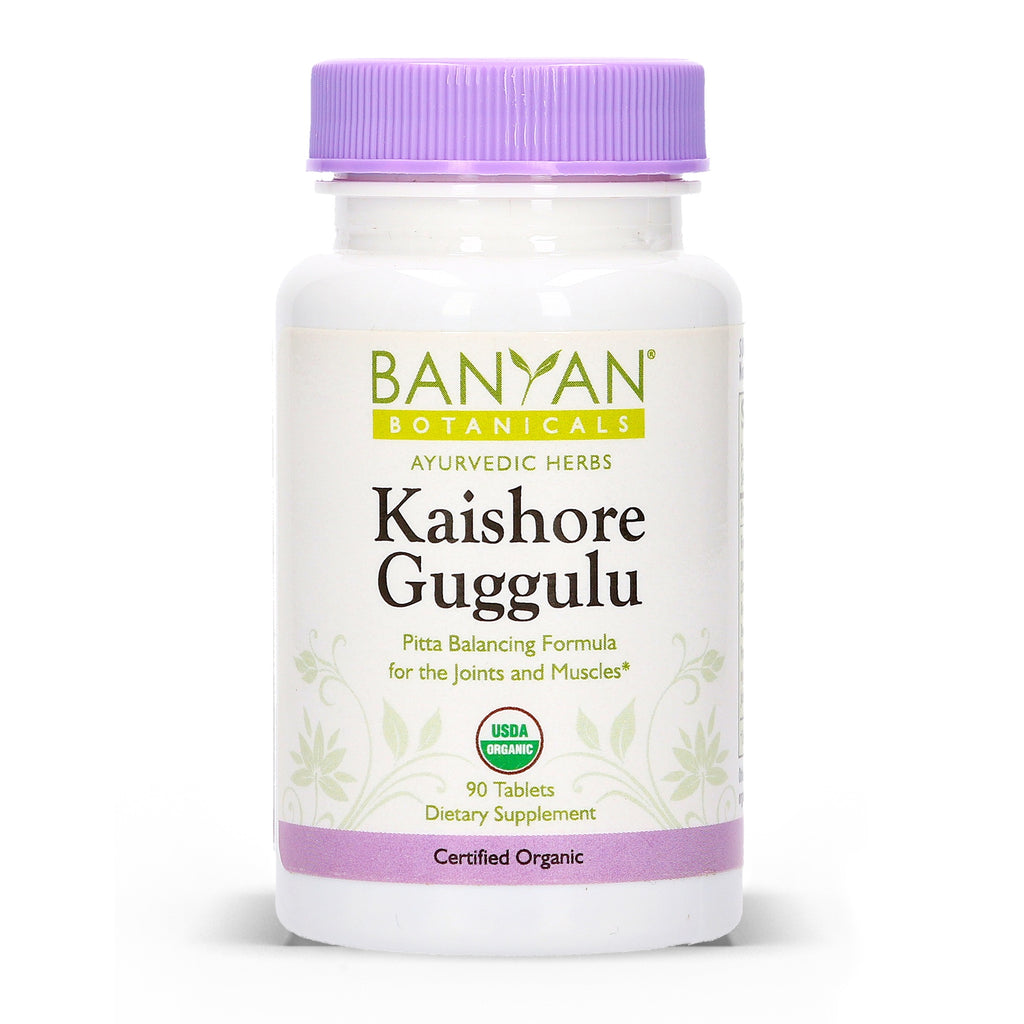 Pitta Balancing Formula for the Joints and Muscles*
Supports comfortable movement of the joints and muscles*
Cleanses excess pitta from the musculoskeletal system*
Supports the healthy and proper function of the connective tissue*
Kaishore Guggulu is the traditional Ayurvedic formula for balancing pitta in the joints and muscles. It is a powerful detoxifying and rejuvenating combination that has a special affinity for the musculoskeletal system. Its main ingredients, guduchi, triphala, and trikatu are combined with guggulu to remove deep-seated pitta from the tissues. They also act to nourish and strengthen the system, supporting the overall health and proper function of the joints and muscles. Kaishore Guggulu is also available as a powder.
Ayurvedic Energetics:
Rasa (taste): bitter, astringent, sweet, pungent
Virya (action): heating
Vipaka (post-digestive effect): neutral
Doshas (constitutions): Balancing for all doshas, especially pitta
Common Usage:
Under the guidance of a qualified health practitioner, Kaishore Guggulu can be used to support healthy joints, muscles, and connective tissue. It is especially useful for balancing pitta in the musculoskeletal system.*
Possible Contraindications:
Not for use by pregnant women
Suggested Use:
1–2 tablets, once or twice daily, or as directed by your health practitioner.
Please consult with your health care practitioner prior to the use of this product if you are pregnant or nursing, taking medications, or have a medical condition. Keep out of the reach of children.
Supplement Facts:
Serving size: 2 tablets
Servings per container: 45
Each 300 mg tablet contains: Guggulu resin (Commiphora mukul)+, Guduchi stem (Tinospora cordifolia)+, Amalaki fruit (Emblica officinalis)+, Bibhitaki fruit (Terminalia belerica)+, Haritaki fruit (Terminalia chebula)+, Ginger root (Zingiber officinale)+, Pippali fruit (Piper longum)+, Black Pepper fruit (Piper nigrum)+, Danti root (Baliospermum montanum)+, Nishoth root (Operculina turpethum)+.
+Certified Organic
Other ingredients, from natural sources: organic gum acacia, organic rice flour. Free from gluten, soy and dairy. 100% vegetarian.