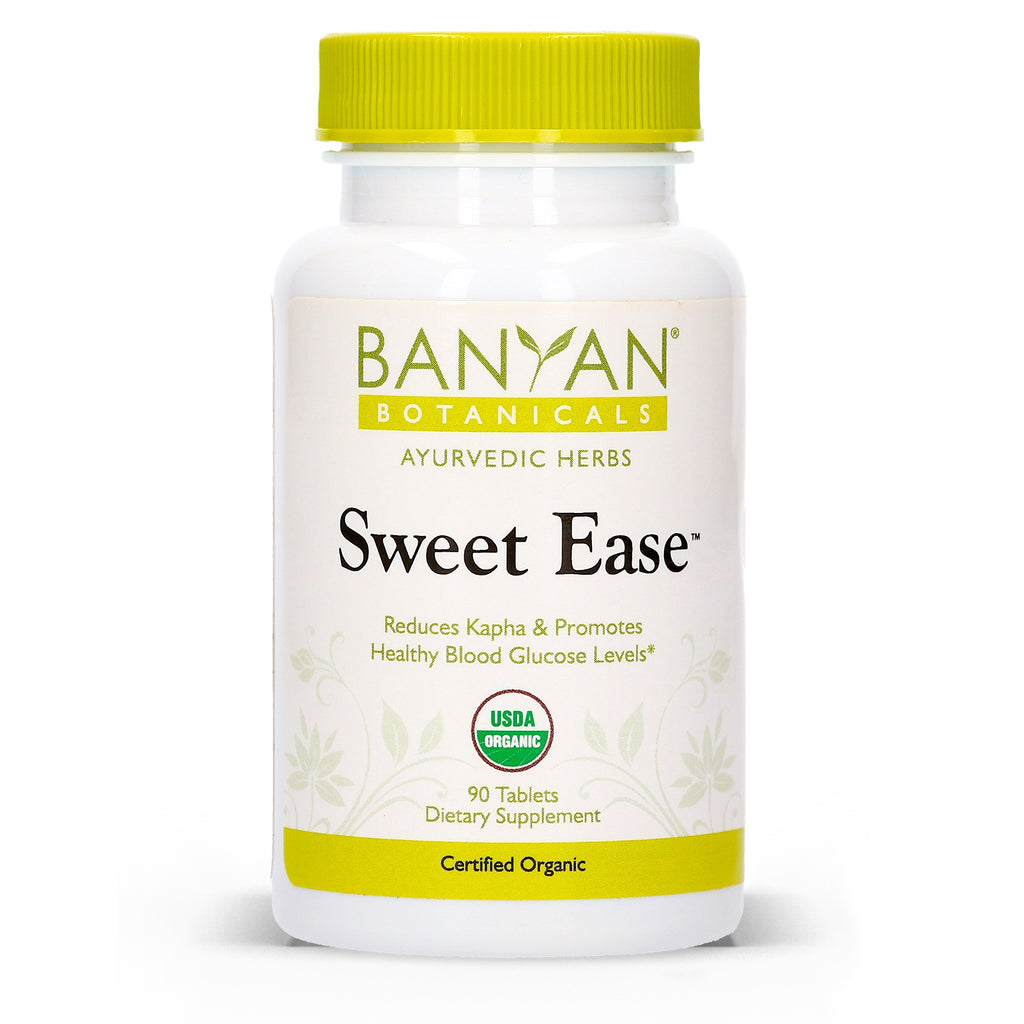 Reduces Kapha & Promotes Healthy Blood Glucose Levels*
Supports healthy blood sugar levels already within a normal range*
Supports proper function of the pancreas*
Reduces excess kapha*
Maintains healthy digestion*
Sweet Ease is a kapha-reducing formula created to support healthy blood sugar levels and the proper function of the pancreas. Shardunika, a main ingredient, is known as "the destroyer of sweet." Modern studies suggest that it helps the pancreas maintain healthy blood sugar levels already in the normal range by supporting the production of insulin. Along with shardunika, Sweet Ease combines other Ayurvedic herbs like neem and turmeric that have been used together for centuries to support the pancreas and to help the body digest sweet, unctuous, and heavy substances. This formula also bolsters the immune system while toning the urinary tract and supporting healthy urination.
Ayurvedic Energetics:
Rasa (taste): bitter, sour, astringent
Virya (action): neutral
Vipaka (post-digestive effect): pungent
Doshas (constitutions): Balancing for kapha and pitta, may aggravate vata
Common Usage:
Used to support healthy blood sugar levels already within a normal range and proper function of the pancreas.*
Possible Contraindications:
Low blood sugar, use with care during pregnancy
Suggested Use:
1–2 tablets, once or twice daily, or as directed by your health practitioner.
Please consult with your health care practitioner prior to the use of this product if you are pregnant or nursing, taking medications, or have a medical condition. Keep out of the reach of children.
Supplement Facts:
Serving size: 2 tablets
Servings per container: 45
Each 500 mg tablet contains: Guduchi stem (Tinospora cordifolia)+, Amalaki fruit (Emblica officinalis)+, Shardunika leaf (Gymnema sylvestre)+, Turmeric root (Curcuma longa)+, Arjuna bark (Terminalia arjuna)+, Neem leaf (Azadirachta indica)+.
+Certified Organic
Other ingredients, from natural sources: organic gum acacia, organic rice flour. Free from gluten, soy and dairy. 100% vegetarian.