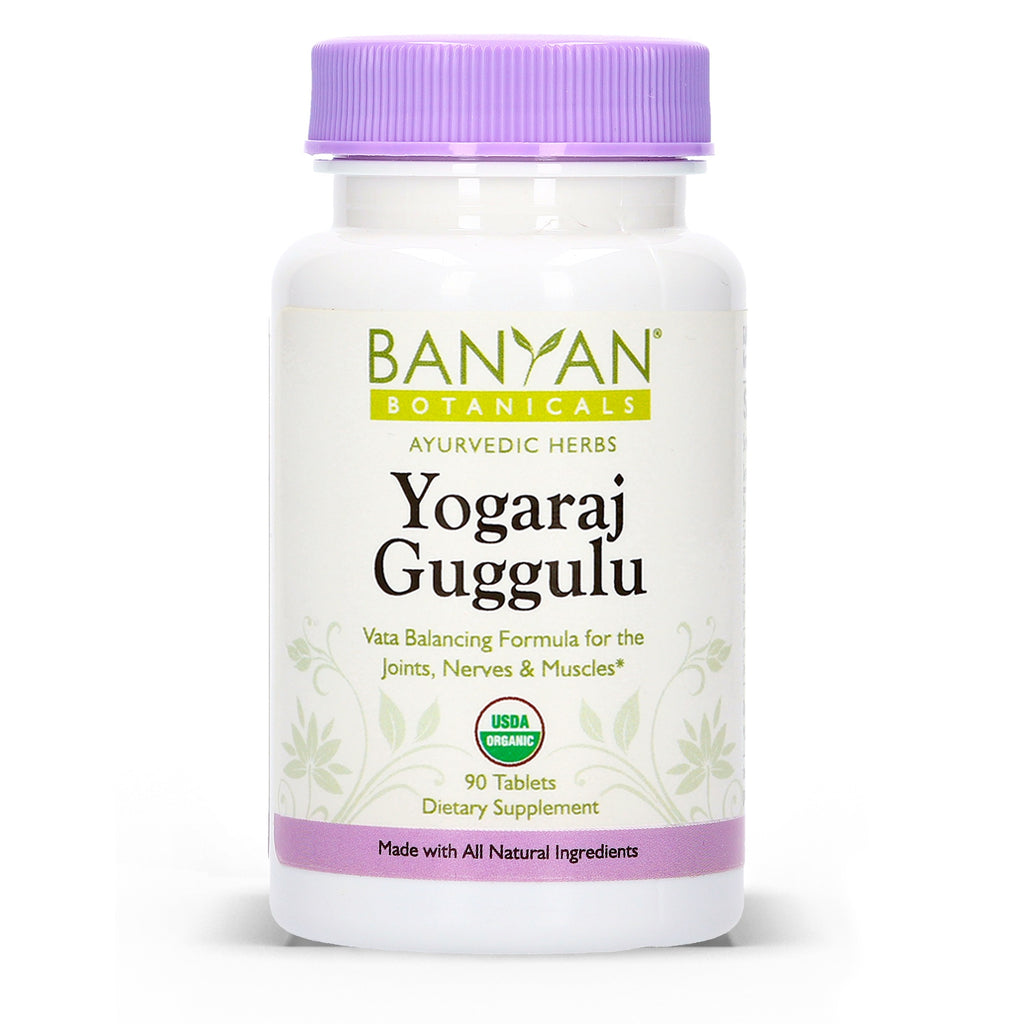 Reduces vata in the joints, nerves and muscles.
90 tablets [300 mg]
Each 300 mg tablet contains: Guggulu resin (Commiphora mukul)+, Long Pepper fruit and root (Piper longum)+, Bibhitaki fruit (Terminalia bellerica)+, Celery seed (Apium graveolens)+, Amalaki fruit (Emblica officinalis)+, Black Pepper fruit (Piper nigrum)+, Cardamom seed (Elettaria cardamomum)+, Javanese Long Pepper fruit (Piper retrofractum)+, Chitrak root (Plumbago zeylanica)+, Cinnamon bark (Cinnamomum verum)+, Coriander seed (Coriandrum sativum)+, Cumin seed (Cuminum cyminum)+, Deodara bark (Cedrus deodara)+, Ginger root (Zingiber officinale)+, Gokshura fruit (Tribulus terrestris)+, Haritaki fruit (Terminalia chebula)+, Musta root (Cyperus rotundus)+, Pluchea root (Pluchea lanceolata)+, Rock salt, Vidanga fruit (Embelia ribes)+, Talisa leaf (Abies webbiana)+, Tamala bark (Cinnamomum tamala)+, Vetiver root (Vetivaria zizanoides)+, Barley ash (Hordeum vulgare)+, Ajowan seed (Trachyspermum ammi)+.
+Certified Organic
Other ingredients, from natural sources: organic maltodextrin, organic rice flour, organic gum acacia, silicon dioxide. Free of gluten, soy and dairy. 100% vegetarian.